Clarifying the Coordinating Conundrum
Who is a coordinator?
A person employed by a bride and groom to assist them in planning, designing and coordinating their wedding day. May also be known as a wedding coordinator, wedding consultant or wedding designer. See the following definitions from the Cambridge Dictionary. 
Wedding Planner
- a person or company whose job is to organize weddings for other people
 Coordinator
- someone whose job is to make different groups work together in an organized way to achieve something
At Something Borrowed, the thing we want to achieve is for you to "Save Time, Save Money & Save Stress!"
Our coordinators have been through this multiple times before. They know what pitfalls to look for, and we consider them to be the preventative medicine in the industry.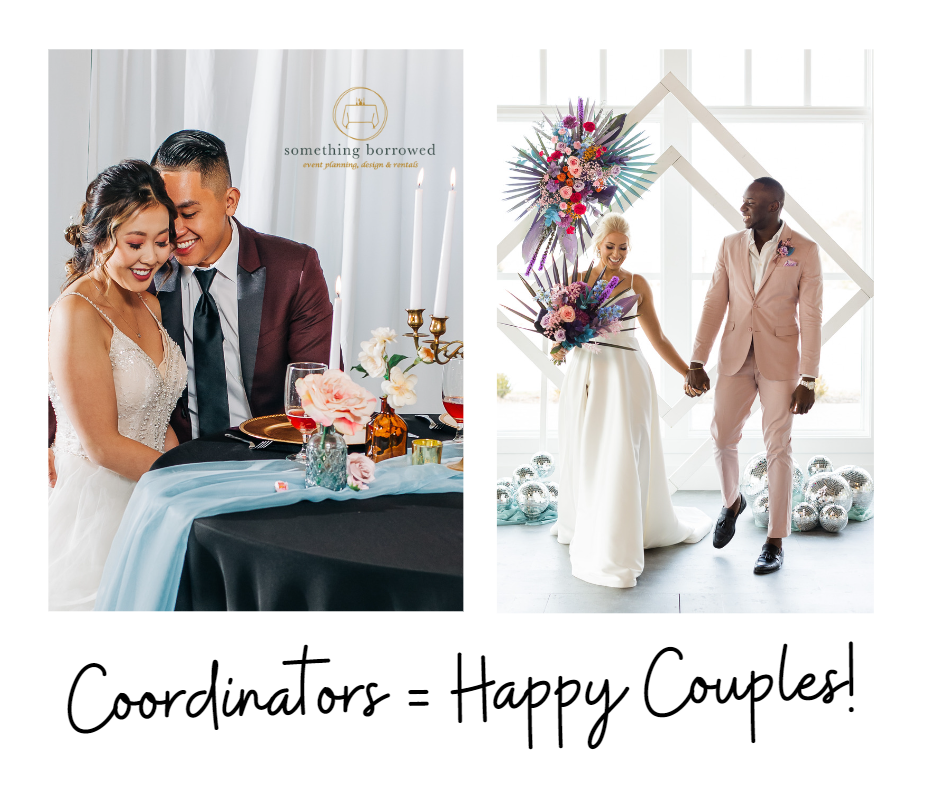 Is this an expense I really need?
Actually, this is an INVESTMENT! By hiring a coordinator or planner, you can actually save money!
You save in your investment of time.  They help you streamline the process, make sure you aren't forgetting any major details that can be costly to fix later. They are EXPERTS in the details. Not only that, but they even help with communicating with other vendors.
At times, a good coordinator, will have established partnerships with other vendors that offer deals or discounts that are passed on to you!

But I enjoy planning things or I am too controlling to let anyone else be in charge.
While this is fine in theory and I find very true in the initial stages of wedding planning, there comes a point of planning fatigue.  At this point, you don't care about the small details that were once so important you. You can even get to the point where you don't even want to think about the wedding details anymore.  This is where your coordinator/planner is invaluable, they have been walking along this journey with you long enough to know what details were the most important to you and as you have run through this planning relay this is the time to hand the baton to your coordinator so they can sprint to the finish line.  You are able to recover, take a deep breath and focus on being able to be present and refreshed for your big day.
-tina