Something Borrowed Services
I am back!!  Yes, it was my idea to launch my blog during the start of the busy wedding season.  It has been so fun getting back into the swing of serving each of our couples. But, sharing here has gotten put on the back burner.  We had a few weddings in March and then in April we had an awesome employee training getting ready for you all.  Honestly, I was emotional watching everyone eager to learn how to serve our customers.  I am so proud of how hard everyone worked learning the tricks of our trade.  We completed this training just in time for them to hit the ground running. We now have teams that enable us to divide and conquer and make your day stress-free.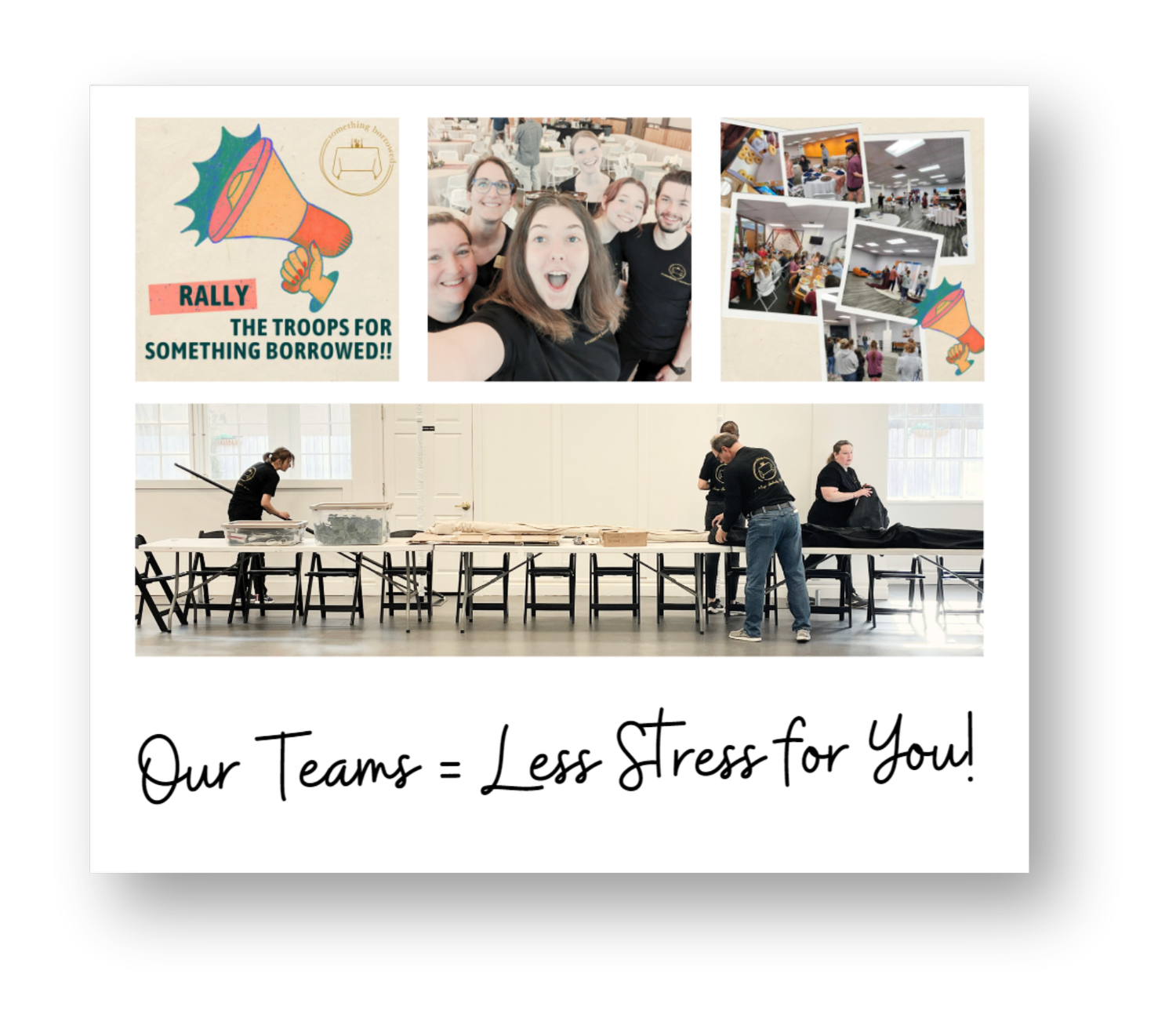 AT SOMETHING BORROWED, I SAY WE CAN DO AS MUCH OR LITTLE AS YOU WANT. 
You can walk out with 1 or 2 small decor pieces, or we can be a one-stop shop for decor and services. This is where our packages come in. 
We had multiple requests for "package pricing" so we developed our Blush and Teal packages. Think of these as a wedding in a box.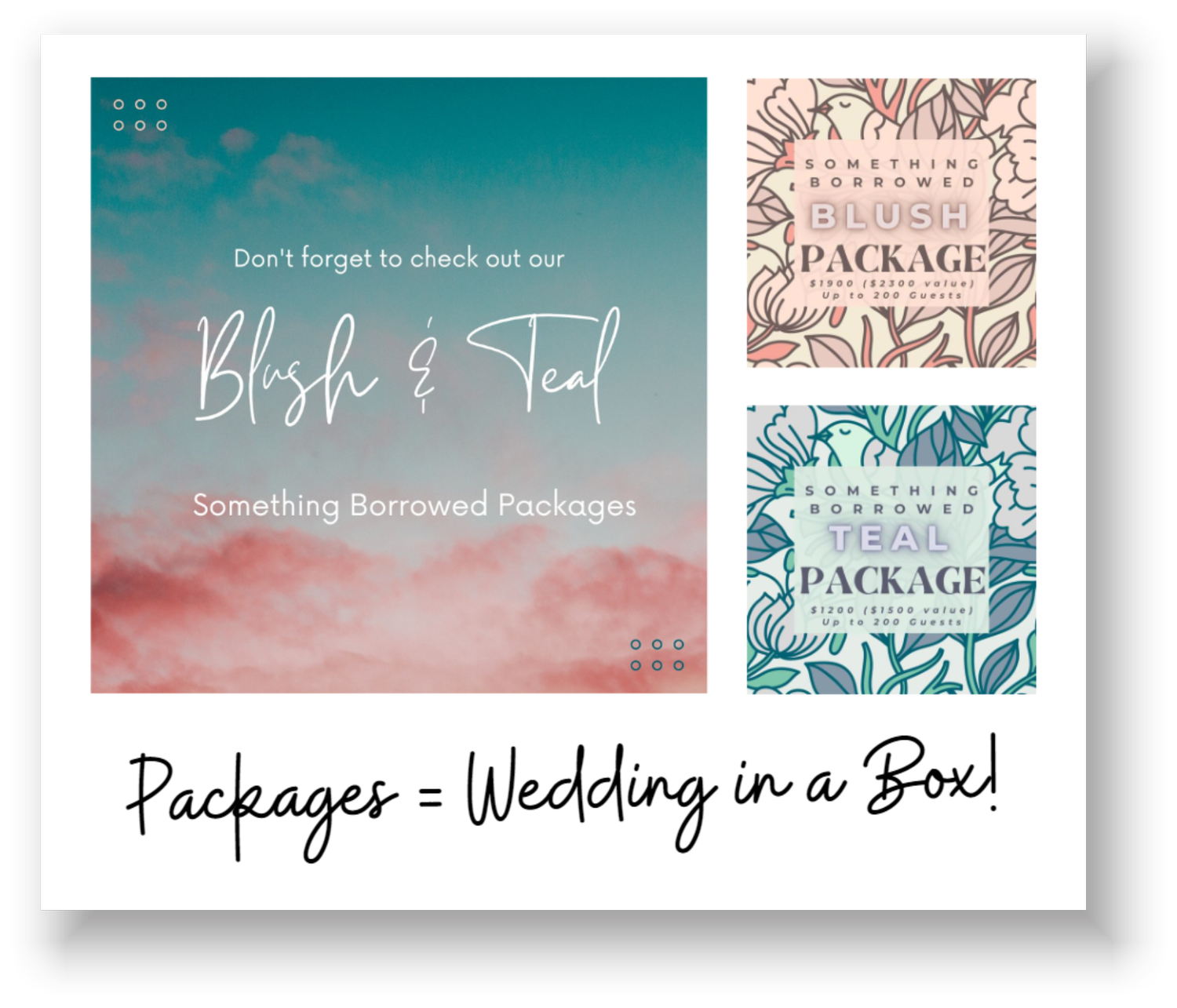 With both packages, you get the same amount of decor. The base pricing is for 200 guests, but can be adjusted in increments of 50 guests (see brochure for specific amounts)
Table linens*
2 arbors or backdrops
Basic Centerpieces
Table Runners
Head table decor
A misc. decor budget 
Faux floral swags for arbors
Fabric Draping 
*Table linens can be removed for reduced pricing and decor can be truly customized if there are things you don't need that value can be credited to other decor. Napkins and Chargers can be added for an additional fee.
THE DIFFERENCE BETWEEN THE 2 PACKAGES IS WHETHER YOU NEED DELIVERY, SET UP, OR TEAR DOWN.  
For instance, if you have your venue for the whole weekend, and you have plenty of friends and family to set up the day before and tear down the day after (AND THIS IS SOMETHING YOU WOULD REALLY ENJOY SPENDING TIME ON) the TEAL package would be just right for you. You get the package pricing while saving hundreds of dollars by investing your own time and energy putting it all together.
On the flip side, if you only get your venue for a few hours before the ceremony, that means you have even fewer hours before people are needing to get ready and pictures are starting.  So, it can be very stressful for them trying to get everything set up and themselves ready.  That's where we come in!! With our ​BLUSH package, let us do the work. We will know your vision, so our team can bring it to life - while the most important people are sipping mimosas with you. 
While these packages are perfect for some, don't think we can't help if you're not needing the whole package.  We also offer delivery, pickup and tear down on a la cart items as well.  
And my PSA is also please, please consider the investment of a wedding coordinator. I promise you will look back and think that was one of your best decisions. 
Schedule a consultation today so we can design a beautiful, relaxed day for you.
- tina